Services
VKVC Services Team Operation
Pipeline pressure testing with Water or Nitrogen
Cleaning and Pigging of Pipelines
Pigging of Non-Piggable Pipelines
Turnkey on-line or off-line chemical and mechanical cleaning
Pig Tracking and Stuck Pig Removal
Gel Pigging
Commissioning, decommissioning and abandonment
Volatile liquid removal from gas pipelines
Water or amine removal from liquid for NGL pipelines
Integrated services with Nitrogen suppliers
Water Treatment services for discharge
Offshore pipeline remediation projects
Hot Tapping for Instrumentation Pipelined Pipeline Sleeve installation and welding
ON Line Leak Sealing with Clamps
Composite wrap applications
Installation of Intrusive and Non-Intrusive Pig Signals and Instrumentation
Pipeline Pigging Problem Solvers
– VKVC are the solution provides for your pipeline cleaning and Pipeline Pigging needs. VKVC are experts in pipeline cleaning,    provide specialist pigging products, specialist pigging equipment, specialist on site pigging services to suit the demands of the Oil, Gas / Water pipeline pigging industry       – no matter how diverse and complicated.
The innovative services offered by VKVC Pipeline services division provide a full-range of solutions to the pipeline industry for both onshore and offshore applications. We apply our experience, specialized equipment and trained personnel to develop and execute cost-effective solutions for a variety of pipeline challenges. The diversity of our manufacturing facilities, equipment and experience provides our customers with services to handle both liquid and gas projects. Solutions for large transmission lines, smaller gathering lines and every pipeline challenge in between including pigging of multi-diameter pipelines and non-Piggable Pipelines, Leak Sealing and Hot – Tapping for instrumentation lines.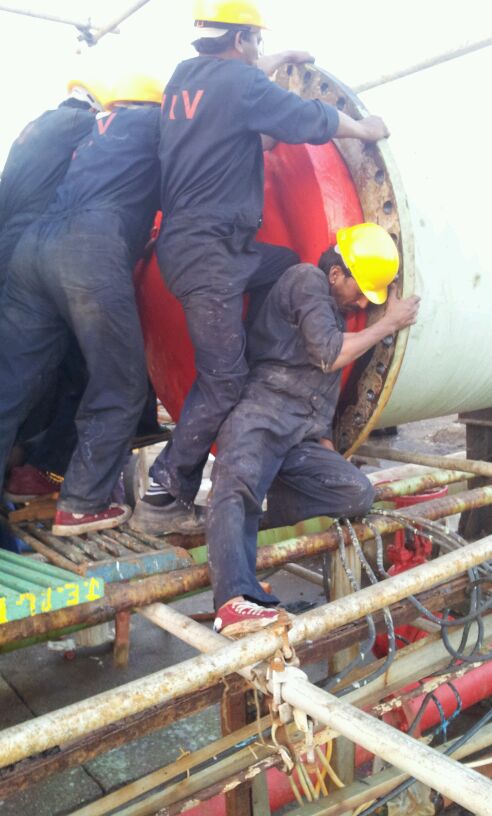 Pipeline Cleaning
VKVC designs and manufactures tailor made Pipeline Pigs to suit each individual pipeline application. Our Pigging equipment is utilized for applications where 'standard off the shelf ' pigging equipment is not performing or cannot perform. For example we have Pipeline Pig Cups and Brushes with outer dia meters increasing by 5mm for progressive pigging of severely wax deposited pipeline.
Your pipelines are valuable assets – they must be looked after with top quality pigging equipment to ensure pipeline integrity, pipeline maintenance and pipeline flow assurance. Being a specialist pigging company allows VKVC to lend their experience to design and configure pipeline pigging equipment to meet individual pipeline requirements, and with an innovative approach, have the capability to solve most pipeline pigging problems using specially designed and custom made equipment. VKVC also offers gel pigging services. Gel pigging is particularly useful when lengthy pipes are pigged. In extended distances it becomes critical that the debris which are removed from the pipe walls are carried forward without line blockage. Gel pigging or chemical cleaning procedures are performed by VKVC in addition to pigging to clean pipelines.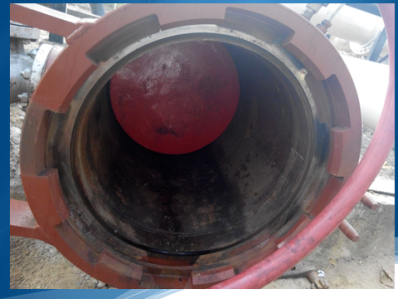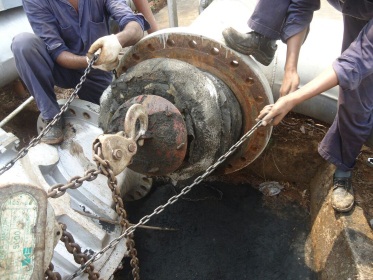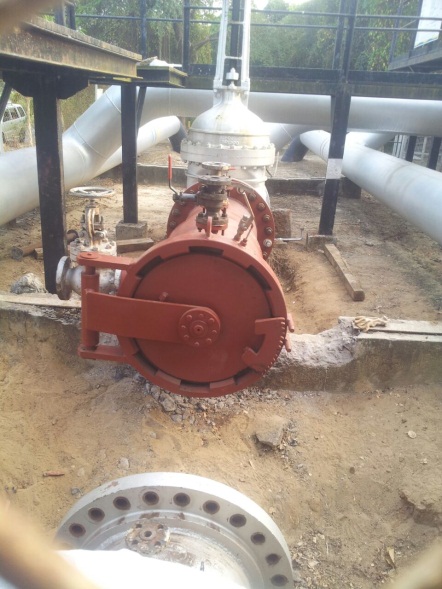 Leak Sealing Clamp Installation
VKVC provides Leak Sealing Clamps for all applications our specialist team is available 24x7 to measure actual and inspect locations for design of special Clamps.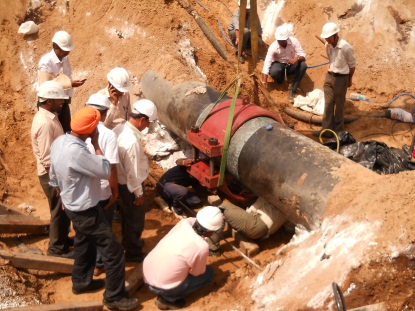 Over the years we have sealed leaks on-shored and offshore with tailor made Clamps and installed Clamps with our technicians supervising the installation. VKVC Clamps have Sealed and Reinforced leaks on Pipeline Welds, Tees, Bends, Valves, Monolithic Insulation Joints, Pig Barrels, Instrumentation Tap offs, weldolet branch connections.
Hot Tapping
VKVC provides Hot Tapping services for installation of instrumentation lines and Tap offs upto 4 'NB and ANSI 600 rating. Our qualified welders and technicians are regularly employed by various international Hot Tapping companies.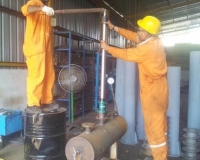 Reinforcement of Dent / Gouge / Tapping on Pipeline with Clamp + Epoxy Grout
Reinforcement Sleeve installation and welding is also carried out by our qualified site crews. VKVC offers composite pipeline repairs for permanent reinforcement of Pipelines. We have applied composite pipeline repair material to encapsulate clamps that cannot be welded to pipeline due to operational constrains.