ONSHORE GASLINE Reinforcement of a type 'A ' Sleeve VKVC LEAK REPAIR CLAMP
Overview MFL Pig Run of a 24" NB ANSI 600 GASLINE, the data indicated severe metal loss. Type 'A' Sleeve was installed on the affected zone. In the next inspection run, both the pipeline and sleeve showed severe metal loss. Composite Repair was ruled out due to the location and huge extent of metal loss. An immediate shut down was ordered and subsequent repair of pipeline was planned but could not be implemented due to operational constrains.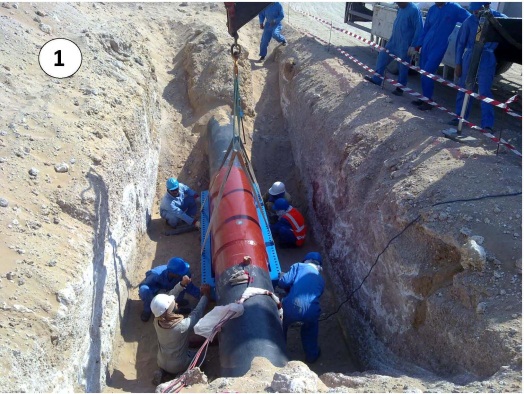 Solution & Implementation VKVC were called in to provide a solution to restart the pipeline and continue it running safely till permanent repairs could be carried out. The initial phase involved taking accurate dimensions of the pipe with ovality and sleeve. Detailed engineering and design was carried out. The crucial second phase plan involved fabrication of a 24" NB Dia. X 26" Enclosure Dia. X 2200mm long ANSI 600 Clamp. The Clamp was fabricated, tested and airfreighted in record time. The installation was completed smoothly and satisfactorily.